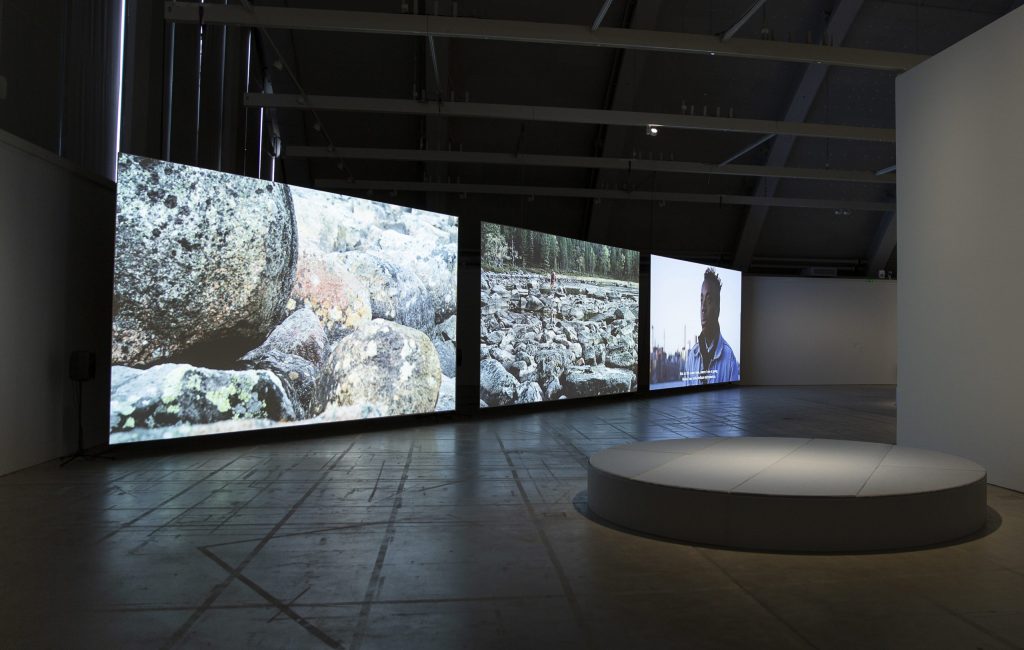 Becoming
3- channel video installation, 180 min
See trailer on vimeo
Becoming is a meditative video installation that invites the viewer to different landscapes in southern Finland, Sápmi, and New York to think together with people whose lives or work touch on something that is in bud. They are building a more equal, more diverse society or creating alternatives to the patriarchal, heterosexist Eurocentric tradition of thinking and its image of humanity.
The questions taken up by the interviewees prompt us to think in practice about how we are to live and act amid unavoidable changes. The interviewers ponder what nascent forms of humanity and being should be nurtured so they can grow and create a just, sustainable future.
Gustafsson&Haapoja: Becoming, 2020
Directors, script, concept: Laura Gustafsson and Terike Haapoja
Filming and editing: Terike Haapoja
Sound design: Pinja Mustajoki
Music: Mercedes Bentso, Hilja Grönfors, Anna Morottaja, Tommi Mäki
English translators: Mike Garner, Samuli Kauppila / Saga Vera
English subtitles: Samuli Kauppila / Saga Vera
Sound recording: Satu Kankkonen, Mikko Virmajoki, Maura Korhonen, Kira DeCoudres
Exhibition team and curating in HAM Helsinki Art Museum in 2020: Heli Harni, Pirkko Siitari, Petronella Grönroos
Production: HAM Helsinki Art Museum and Fantomatico
Supported by AVEK Mediarata funding.
Interviewees: Elisa Aaltola, Maryan Abdulkarim, Eija-Liisa Ahtila, Jaana Airaksinen, Eeti Berg, Ulla Drake, Pauliina Feodoroff, Willa France, Elaine Gan, Hilja Grönfors, Satu Herrala, Maru Hietala, Koko Hubara, Aune Kallinen, Waqia Kareem, Maija Karhunen, Anna Kemppainen, Mai Kivelä & Saila Kivelä, Sonya Lindfors, Eveliina Lundqvist, Louna Lundqvist, Ajak Majok, Anna Morottaja, Pia Puu Oksanen, Milla-Mari Pylkkänen & Camilla Rantanen, Linda-Maria Roine, Malla Raevuori & Silva Seppälä, Radhika Subramaniam, Caroline Suinner & Meriam Trabelsi, Saara Särmä, Asiya Wadud, Jenni-Juulia Wallinheimo-Heimonen, Ruby van der Wekken